The Honey Bee Initiative (HBI) is a university-wide effort supported by the Center for Innovation and Entrepreneurship to empower communities through sustainable beekeeping. Students from across campus, regardless of major, have a way to explore their interest in apiculture in a very hands-on manner. We offer opportunities to engage in scientific research, design art projects, connect with the community, and even study abroad.
Presently, we aim to develop honeybee-based social businesses in both underserved rural and urban communities. We are developing science based and sustainable practices relating to beehive maintenance, hive splitting, queen rearing, and disease management. We currently maintain hive clusters across several locations – (1) Mason's Fairfax Campus (2) Mason's Science and Technology campus in Manassas, (3) Route 95 Landfill in Lorton , and (4) Manassas Airport.
In addition, we have robust programs internationally, with a desire to expand both here at home and abroad.
International Work
We operate in both Perú and Colombia, dedicated to the idea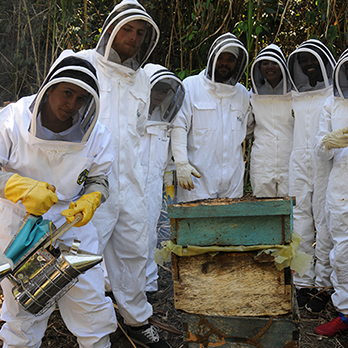 of using sustainable beekeeping as a tool to empower local communities and drive economic development. In Perú, we've worked with community beekeepers to establish vertical hives work, reproduce colonies from the ones they have to create more colonies, create a market for honey and bee-related products, and integrate forest conservation into the community culture. In Colombia, the bee program supports sustainable, entrepreneurial beekeeping programs to foster economic self-sufficiency for indigenous women and their families.  
We were immensely proud to have our efforts recognized in 2020, as HBI's work in Colombia was selected as the 15th best overall social and environmental project in Latin America and the Caribbean by the Latinoamérica Verde awards. The project was selected due to the results it has achieved in promoting sustainable development and the conservation of bee biodiversity. 
Research Efforts
The honey bee, a naturalized species of pollinator, is responsible for pollinating approximately $15 billion worth of crops annually in the US alone. As humans modify the natural landscape, understanding honey bees' resource base and what makes their populations healthy is important economically and in terms of food security. If bees don't thrive, neither do we.
In partnership with Fairfax County and Covanta, we have established 24 hives on a former landfill to assess the connections between honey bees and their local environment, specifically with regard to the pollen resources they use and contaminants that they might introduce to and accumulate within their hives.
This work will help us learn whether honey bee hives are sufficiently provisioned throughout the seasons and what sort of plants they rely on. It will also inform the degree to which heavy metal contamination is in their foraging range. This knowledge will help inform action that ensures continued health for this important pollinator species.
We'd like to keep growing our impact and need your support. We need help:
Educating students and the community about the interdependence of pollinators and human food sources, and modeling best practices in the management of honey bee hives.
Advancing global sustainability initiatives and economic alternatives for underserved regions.
Collaborating with public and private groups on improving the Northern Virginia ecosystem and establishing a sustainable business model.
If you think you might want to join our great team of partners, please let us know. Give us a buzz at ciemason@gmu.edu.